Photochemical Reactors, Photocatalytic Reactors Manufacturer, Exporter
Quartz Photochemical Reactors, Photochemical Flow Reactors Manufacturer, Exporter
Available from 500 ML to 50 Liters Capacities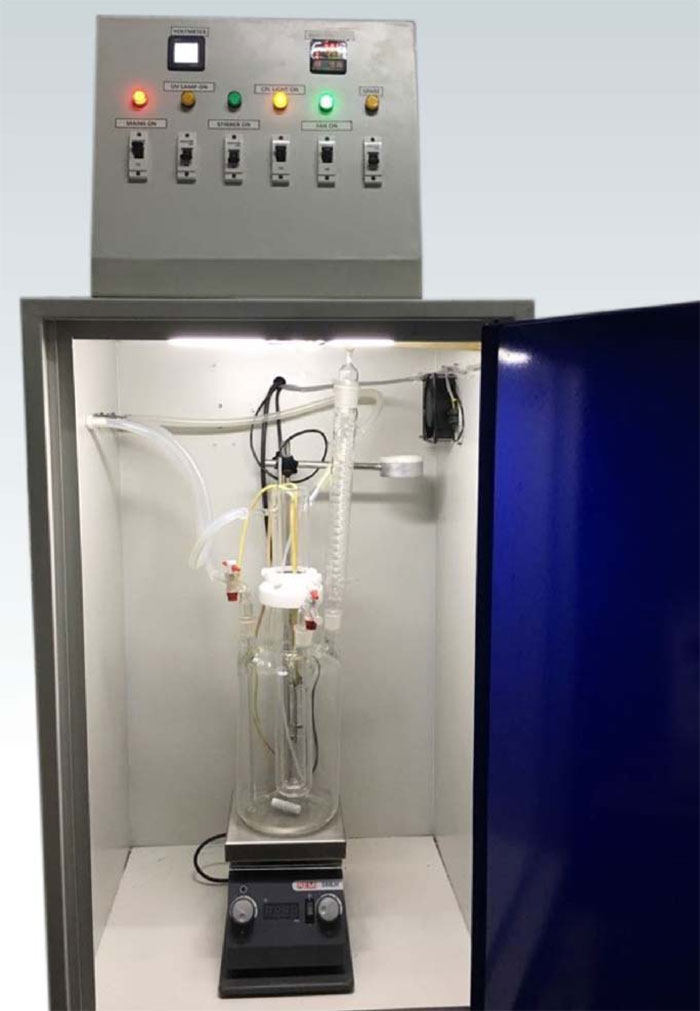 Photochlorination is a Chlorination Reaction that is initiated by light. Usually a C-H bond is converted to a C-Cl bond. Photochlorination is carried out on an Industrial Scale. The process is exothermic and proceeds as a chain Reaction initiated by the homolytic cleavage of molecular chlorine into chlorine radicals by ultraviolet radiation. Many chlorinated solvents are produced in this way. The PHOTOCHEMICAL REACTOR is used to carry out a PHOTOCHEMICAL REACTION, WATER SPLITTING, AND PHOTOCHLORINATION REACTION. The Reaction takes place in the presence of photon and catalyst. Hence it is called as Photocatalysis Reaction or Photochemical Reaction. The Reactor is also known as the Photocatalytic Reactor. The Photochemical Reactors Complete Setup includes Triple Jacketed Immersion Well, Medium or High Pressure UV Lamp, Lamp Ballast along with a Chilled Water Circulator, Safety Cabinet (For 500 ML to 5 Liters Capacity) and Magnetic Stirrer (For 500 ML to 5 Liters Capacity). For Bigger Models we Offer Flameproof / Non Flameproof Overhead Stirrers.
The Triple Jacketed Immersion Well consists of 2 Parts. One is Inner Double Jacketed Quartz Well, and Outer is 3.3 Expansion Borosilicate Glass Reaction Vessel. The inner Double Walled Immersion Well has Water Inlet and Outlet Connections for Water Circulation. The lamp inserted into the double walled well and cold water flow required to maintained lamp temperature. The outer Reaction vessel consists of three ports. One port used for catalyst and solvent feeding and other two ports used for gas inlet and outlet. The Borosilicate external Reaction vessel with Centre Neck Armoured TQR Tapper Quick Fit design, where the Inner Quartz Double Jacked Reactor is placed and Sealed Leak Proof.
We Manufacture & Supply Photochemical Reactors ranging from 500 ML to 50 Liters Capacities. In Research, 500 ML & 1Liter Models are majorly used. The price of the assembly varied as per the capacity and setup requirement. The photochemical reactor assembly also includes UV Protected Goggles, 2 Meters Silicon Tubing for Water Circulation and PTFE Fittings for Gas Inlet and Outlet.
The photon plays a vital role in the Photochemical Reaction, therefore the Mercury Vapor (UV) Lamp is used to give specific Wave Lengths Photon Source. There are three types of light source accepted in the reactor, Low-pressure mercury lamp, Medium pressure mercury lamp, High-pressure mercury lamp. The low-pressure lamp consists of monochromatic wavelength and emits over 90% of their energy at 254 nm providing a useful source of Ultraviolet Radiation for the Photocatalytic mechanism. The medium pressure mercury lamp emits UV light and covers the range from 250nm to 400nm with peaks at 254nm, 356nm, and 365nm is also known as UV lamp. Whereas the high-pressure mercury lamp emits visible light and covers the range from 360nm and above with peaks at 365nm, 420nm and 520nm is also known as a visible lamp. The selection of light source depends on wattage requirement and volume of the reactor. The UV output is approximately 18 -20 percent (%) of the light wattage. The UV lamp predominantly used as a Photocatalytic Reactor Light Source; hence it is known by UV reactor. We also supply xenon lamp source for the photochemical reactor on demand. The power supply or step down transformer is necessary since the light source requires quite high and constant voltage to start.
The photochemical reactor design can also customize as per clients requirements. Our research team invented an automated system provides fully UV protection to avoid direct exposure to UV light. The photochemical reactor has equipped with all the safety measures. The Quartz Glass Photochemical Reactor is Designed and Developed for the Batch as well as Continuous Processes as per Customer's requirement.
Trident Manufactures & Supplies PHOTOCHEMICAL REACTOR SYSTEM as a Unit which makes the installation simpler and increases operating efficiency. Photochemical Reactor System comprises ultraviolet source; support equipment; power supply; and, electrical controls. Our reactor is designed and developed to be more productive and encompasses provision for irradiation by High, Low or Medium Pressure Mercury Lamps.
For specific and customized orders, you will have to communicate the required specifications via mail or call. We develop customized solutions to safeguard water from the damaging effects of microbial and chemical contamination. UV Reactors offer high yields and simplicity of control and the system is appropriate for "free radical" Reaction mechanism. Its application is highly popular in fields such as halogenations of organic compounds, production of primary mercaptans, oxidation,  isomerizations,  polymerizations, hydrogen generation, solar application, Photolysis of toxic wastes etc.
Photochemistry is also used in the curing (polymerization) of specially formulated printing inks and coatings. Used in research and science, environment, green/clean energy, water splitting and so on. Our products are distinct, designed with an eye on easy operations and cleaning; optimum lamp spacing, uniform flow field, and significant efficiency advantages amongst others. The photo catalytic reactor is also used for Derivatization of Aflatoxins and enhanced detection.
The Photocatalytic Reactor comprises the inner double jacketed Quartz immersion well and outer jacket of borosilicate. In UV Photoreactor Assembly, an immersion well fitted into the outer jacket in such way that the chances of leakage are negligible and which makes the system more productive. The inner diameter of immersion well designs and developed according to specially manufactured UV lamp, Xenon lamp, visible lamp, high pressure or medium pressure mercury lamp. In Triple Jacketed Photochemical Reactor the inner well used for UV lamp, Middle well used for water circulation and outer well used for the catalyst.
Our Photocatalytic Reactor work at optimum efficiency & consume minimum energy. As mentioned earlier, with help of advanced computer simulation tools, our UV reactors units have been optically and hydraulically optimized to facilitate efficient and cost-effective UV treatment. Our unique design gives them a compact footprint and ensures efficient use of space in a water treatment facility.
An ideal PHOTOCHEMICAL REACTOR UV LAMP is designed for carrying out photochemical reactors, including water splitting and photo-chlorination Reaction. Carrying out a tightly-controlled, efficient and safe photochemical Reaction is one of an essential need, especially in numerous Chemical and Pharmaceutical Industries.
There is a need for a Photochemical Reaction in numerous Chemical Processing methods, used widely in an industry as well as Educational Research and Developmental (R&D) level. A Photon and Catalyst are needed to stimulate the Reaction initially and throughout the process. Hence, it also called photochemical or photocatalysis Reaction.
The UV lamp for Photocatalytic Reactor operated with or without cooling as per requirement. The durable double-jacketed Quartz immersion well is required to circulate cooling water, where Medium Pressure Mercury Lamp (UV lamp) or a High-pressure Mercury lamp (Visible lamp) is immersed. The inner immersion well is fixed with a water inlet and outlet for ideal water circulation during the photochemical process. The light inserted into the inner-well, where the cold water helps to maintain a safe temperature throughout the process.
The photon is most vital to stimulate the photo-Reaction process hence the Medium pressure mercury UV Lamp plays a significant part to give the ideal Reactionary wavelength to the photon's source. This UV Lamp efficiently provides constant monochromatic wavelengths. It has an efficiency ratio of over 90% for energy transmission. Aforementioned gives energy at 254 nm. The medium pressure mercury lamp is designed to emit UV light at a range covering 250nm to 450nm and generate peaks at 254nm, 356nm, and 365nm. The HIGH PRESSURE MERCURY LAMP provides energy ranging between 350 and above, which offer peaks on 356nm, 365nm. The UV light output is in between 20 to 25 percent of total measured wattage. We provide the lamp with the SS Nichrome Mounting or Holder. Order your customized and reliable industrial UV Lamp from Trident to ensure Secure, Efficient and Effective Industrial Photochemical Processing.
Industrial grade UV lamps mainly consist of a pressurized and sealed cover, generally made of Quartz (or even metal). These have 2 (Two) electrodes attached at either end. A high voltage, when passed between the two electrodes, forms an arc of energy, consisting of light and UV energy. That is because the heat from the two electrodes starts to melt the gases (or metals) in the lamp cover, thus forming the plasma. As the plasma is usually seen bending upwards and forming an 'arc' between the two electrodes, this kind of lamp is also known as a "Curing Arc Lamp"   
An ideal UV lamp power supply system works to ensure constant voltage and power to the lamp, and preventing the risk of damage or loss through power surge, when it is being used.

There are 3 (Three) main components in a power supply for UV curing lamp – magnetic choke, electronic ballast and constant wattage transformer.
This component for power supply for UV curing lamp is designed to used with smaller-arc (less than 8 inches) UV lamps. It also comes equipped with an igniter. It is an ideal choice for operating medium pressure UV curing lamps and metal halide lamps too. A Power Supply System consisting of a Single Phase (208 to 240 Volts) Supply, which including the Choke and Igniter which will efficiently operate UV curing lamps of up to 150 V. On the other hand, a cross-phase (360 to 400 Volts) supply, which coupled with a choke and igniter. It will help operate curing UV lamps of up to 135 to 285 V.
Electronic ballasts are also popularly used with smaller (less than 8 inches arc length) UV curing lamps. This is  an advanced, innovative and effective way to provide power supply for UV curing lamp. These are designed to offer better efficiency with a remarkably higher UV output per watt. It also helps to increase the lamp life immensely.
As compared to choke-driven systems, electronic ballasts are known to offer numerous advantages, such as: